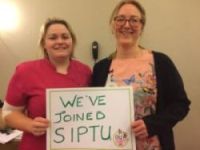 SIPTU is the union for the Early Years sector.
Thousands of educators are joining SIPTU for decent pay, funding and recognition.

You can join them by completing the form below.

Please complete the form, give full postal address where requested


By submitting this mandate form, you authorize SIPTU to send instructions to your bank to debit your account in accordance with the instruction from SIPTU as part of your right, you are entitled to a refund from the bank under the terms and conditions of your agreement with your bank. A refund must be claimed within 8 weeks starting from the date your account was debited. Your rights are explained in a statement that you can obtain from your bank.

Creditor Name: SIPTU
Creditor Address: Liberty Hall, Dublin 1, D01 E5Y3
Creditor Identifier: IE63ZZZ303672
Type of Payment: Recurring

By Ticking this Box, I confirm that all the above information is correct and I authorize the monthly direct debit for the amount of *

*Standard SIPTU contribution rates will apply once a pay deal has been concluded.
Please be advised that SIPTU reserves the right to refuse to offer advice and representation on issues which originate prior to the application for membership

SIPTU is committed to the General Data Protection Regulations 2018, and aims to maintain consistently high standards in protecting and securing all of your personal information. Our Privacy Notice can be viewed at www.siptu.ie/privacystatement/